Description
Set in land where common physics apply, but everything else looks different. You are Tiny, a technophile guy with a ray cutter, a gripping-device and a fine attitude towards the world. But now your nemesis Big again stole the only heritage your grandpa left you: A nice pair of white, fine rib underpants! And he's surely up to no good, why else would he take them to that forsaken desert… Where noone goes! So load up that selfmade raygun and rope device (snitched from the local hardware store) and take your annoying and jabbering backpack to accompany you. It's always been good use to your gramps. Besides, the robot taxi to the desert is waiting! Run, jump, drag, shove and laser your way through the ultimately ancient scenery, gain back those underpants!
History
Tiny & Big started as a loose student project in 2009. After releasing a first beta tech demo in May 2009. The demo was entitled Tiny & Big : Up that Mountain and included one level, which gave the player a first impression of the core mechanics. We received a lot of positive feedback and decided to forge the prototype into a full game. One Year later, we founded Black Pants Studio in 2011, were invited to the IGF, received several awards and grew more and more into making indie games and driving the studio train. The final version of Tiny & Big: Grandpa's Leftovers was unclasped upon humanity in summer 2012 via a variety of digital platforms and as a boxed, german version as well. Since then, we've never stopped working on games and stuff.
Features
Unique Hand-drawn Look – all hand-crafted textures, primo Hatch Shading, and dynamic Sound Words puts you right into a graphic novel!
Creative Jump 'n' Slice Gameplay – use grappling rope, rocket science and laser surgery to slice the whole world, overcoming all obstacles in your very own way. Enjoy unlimited slicing freedom and unique sandbox gameplay!
Better than Life Physics – experience believable physics in a completely destructible, immersive environment that has been built to be cleaved into beautiful, multi-core-simulated pieces of art!
Character-driven Story Line – follow Tiny into a weird and humorous story drenched in peculiarity: get back grandpa's underpants, by all means necessary. Defeat Big, your old arch enemy in the process
Buckets full of Indie Music – collect more than 15 songs from hardly known but genuine indie bands. Discover new songs from the underground, and show off to your friends!
Videos
3typen feat Bryan Kessler - Little Pretty Thing (Tiny And Big in Grandpa's Leftovers) Official Trailer — YouTube
Logo & Icon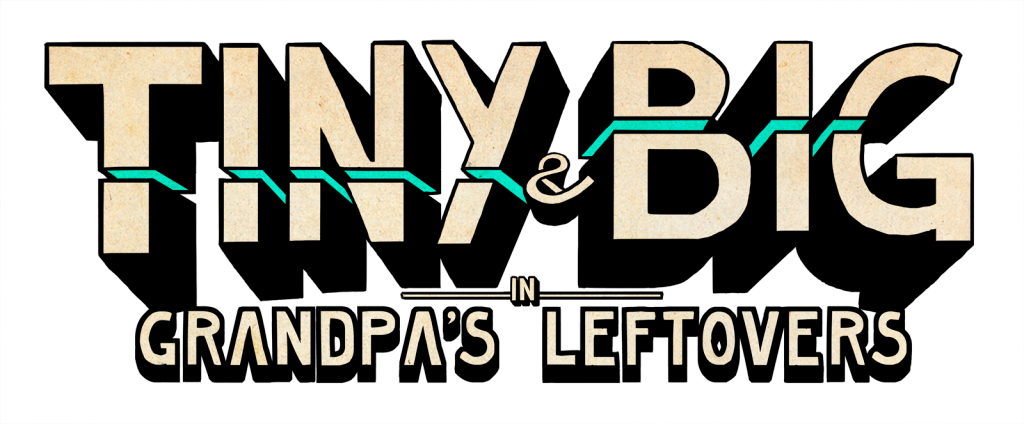 Awards & Recognition
"Winner of Best Youth Game" Deutscher Computerspielepreis – 2013
"Paedi Award" Paedi Guetesiegel - 2013
"Winner Best Gameplay" Brazilian International Game Festival - 2013
"Nominee A MAZE Trophy" A MAZE Indieconnect – 2012
"Honourable Mention "Technical Excellence"" Independent Game Festival – 2012
"Winner of Best Student Concept" Deutscher Computerspielepreis – 2011
"Winner Student Showcase" Independent Game Festival – 2011
"Winner of Best Newcomer" Deutscher Entwicklerpreis – 2011
"Winner of the Independent Propeller Award" IndiePub – 2011
About Black Pants Studio
Boilerplate

Black Pants Studio is an independent game studio rooted in Berlin.

More information

More information on Black Pants Studio, our logo & relevant media are available here.
Tiny And Big: Grandpa's Leftovers Credits
Christian Niemand

Code

Sebastian Stamm

Graphics

Johannes Spohr

Code

Tobias Bilgeri

Game Design

Florian Grolig

Game Design

Sebastian Schulz

Game Code

Tobias Boehm

Sound Design

Vincent Zurwesten

Sound Concierge
Contact
Inquiries

Twitter

Facebook

Web